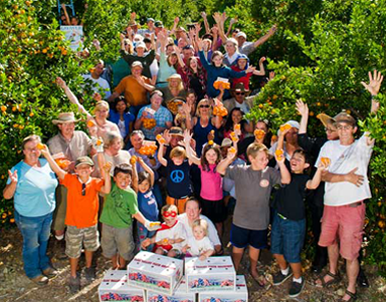 Ojai Pixie Tangerines
Sweet, seedless, and easy to peel
Delicious eaten out of hand or in salads
Kids love them
Ojai Pixie Tangerine Growers grow the best springtime tangerines. Almost 40 tangerine growers – family-scale farmers all of us – have a total of about 25,000 tangerine trees in southern California's beautiful Ojai Valley. Our tangerines come ripe sometime in March, and we sell them both wholesale and direct for as long as we have fruit to sell, usually sometime in May or June.
Sadly, Ojai Pixie harvest 2014 has ended, all those yummy fruits have been plucked from the trees and gobbled up.  Thanks for another great season!
Ojai Pixie harvest 2015 will begin in March, please be patient while our little orbs of yumminess ripen!  We had a great bloom this past spring and are hoping for a record breaking harvest.  Keep your fingers (and toes) crossed that the Western US gets lots of rain this coming fall and winter — this prolonged drought is hard on the soil, pixie trees and farmers.
Sign up on our e-mail list or Facebook and receive notice when the harvest 2015 starts.