The Asian Citrus Psyllid in Ojai: This insect pest has arrived in Ojai.  Please visit this page set up by Ojai Growers for regular updates.  It is important that everyone in Ojai work together to keep this pest from becoming established in our lovely valley.
Our lunchboxes are here!  A long time project of Tony and Emily of Friend's Ranches has been to make a lunchbox for Ojai Pixies.  Ojai Pixies are superbly portable and the best thing to pack in a lunch or picnic so we have made you something fun and stylish to tote your Ojai Pixies in.  We teamed up with local cartoonist Sergio Aragonès (yes, of MAD magazine) and we absolutely love them!  You can find the Ojai Pixie lunchboxes for sale in Ojai at Friend's Ranches, the Ojai Museum giftshop, Westridge Markets, and Kingston Candy Company. You can also order them to be shipped by mail at Friend's Ranches.

The 2015 Ojai Pixie crop was a record breaker — almost 5 million pound of tangerines harvested!  Whew– now we need a rest and to wait for the 2016 to ripen.  They will be ready by March 2016.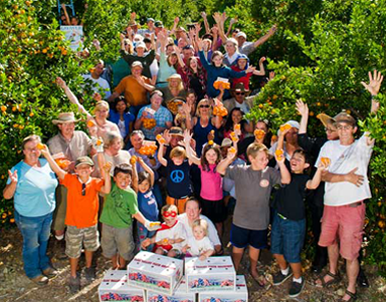 Ojai Pixie Tangerines
Sweet, seedless, and easy to peel
Delicious eaten out of hand or in salads
Kids love them
Perfectly portable for purses or picnics
Ojai Pixie Tangerine Growers grow the best springtime tangerines. 52 tangerine growers – family-scale farmers all of us – have a total of about 25,000 tangerine trees in southern California's beautiful Ojai Valley. Our tangerines come ripe sometime in March, and we sell them both wholesale and direct for as long as we have fruit to sell, usually sometime in May or June.
The 2015 Ojai Pixie harvest has begun!
We have a world-record crop of our little orbs of yumminess for this year– over 3 million pounds of 'em!  Please enjoy the season and let us know where you find our fruits.